True Metrix Blood Glucose Test Strips box of 100 By Nipro Diabnostics
Nipro Diagnostic's True Metrix Blood Glucose Test Strips box of 50 x 2 features advanced technologies - a complex algorithm, chemistry and electrodes, the meter and the test strip work together as part of the True Metrix Self-Monitoring Blood Glucose System to produce accurate results. With True Metrix accuracy is confidence. Triple sense technology automatically detects, analyzes and corrects variables in each blood sample to ensure proven accuracy and confidence in results.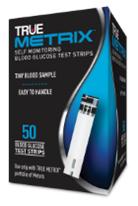 True Metricx Strips Features:
Tiny, 0.5 microliter blood sample.
Detects sample environment, sample size, control solution.
Analyzes environmental and physiological factors.
Corrects hematocrit/temperature.
Made in USA.
For Use with TrueMetrix Meter only.
9 Reviews
These strips work reliably

Not only do these strips work reliably, but get almost no error messages from my meter

good product good service

Best for taking sugar readings

Goof test strips for my True Metrix monitor.

Very Good pricing compared to Local mom pop Drug store and Chain Stores

Got a new batch and they work like a charm.

Very happy with my experience very prompt, you shipped on Friday I received on Monday and at a great price. Thank you....GAF

Good price fast shipping

5 stars

I like these test strips as they require the tiniest drop of blood. Easy!